Your computer = your gymnasium.
We will use your computer as a WINDOW.
Since we are talking through a window, SPEAK LOUDLY.
RAISE YOUR HAND so that everyone doesn't talk at once.
Your computer is a window to HEAVEN.
Your computer is an ALTAR.
Use your ALTAR WINDOW with respect.
Clean your room and show me the best you can be.
Do not waste time during lessons. GIVE YOUR FULL ATTENTION always.
Do not argue or say, "No, I can't do that..."

If you have a physical injury or permanent physical limitation: tell your Shifu.
(Your Shifu will not expect was is impossible or bad for you.)
Respect is appreciation.
Appreciation is awareness.
Awareness is spiritual advancement.
Let's all increase our Kung Fu abilities by increasing our spiritual awareness.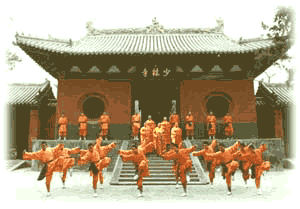 During Kung Fu class YOU ARE IN A SHAOLIN TEMPLE.
During Kung Fu class WE ARE ALL IN SHAOLIN TEMPLES.
During Kung Fu and Tai Chi class we are ALL in A SHAOLIN TEIMPLE together.